You are currently browsing the monthly archive for January 2009.
On Monday a coaching client mentioned feeling inadequate to put herself in front of high-end clientele .  The next day I heard the same fear articulated by another woman I was coaching who also had that "less than" thing going on. Then, over lunch with a colleague yesterday same story again.
So, what started as an "hmmmm" on Monday, took on trend status Tuesday and proved to be an epidemic by Thursday. Definitely a blog topic for today!
I'm traveling to Florida next week to be with good friends and have also scheduled an appointment while I'm down there to meet with the President of an acclaimed art college to offer a collaborative event. My gremlins are SCREAMING: "Why would he be interested in YOU?" "He has millions of alums who can do what you do in high heels and backwards." "What could you possibly offer that he doesn't already have enough of?"
Do you need me to share more to qualify for this sorority? I didn't think so…
Fortunately, I participate in a spiritual fellowship every Friday morning and heard just what I needed today to address this issue:  the fear that lies beneath our desires.
I believe that my intuitive hit to contact this gentleman, based on a quote of his I read in the NYTimes awhile back, was the spark of God in me. And that my gremlins represent FEAR and are combated only by action.
What's on the other side of this impostor/less-than/fear-of-success syndrome is faith, success and the unknown. It used to be more comfortable for me (us) to wallow in the familiar, icky as it may be. I can't do that any more.
The way I get beyond my saboteurs, head games and paralysis is to name it and claim it, to ask for help and to do the next right thing. I pick up the phone, describe what's going on to a caring friend, and describe the action I'm going to take on my behalf. It has worked every time I've done this and is the underpinning for my success to date.
The fear doesn't go away. I keep doing scarier and cooler things in my business. But the muscle I'm flexing to overcome the fear is growing stronger every time I use it.
For the past couple of weeks I've been talking about parties: my clients' –341 Studios–cooking party for their subcontractors, my thank you event for my clients and the idea that now is a great time to send out invitations and find something (anything!) to celebrate.
When we're together in a positive environment and among friends, colleagues and peers, the challenging news of the day ebbs from the foreground. For me, it is an essential ingredient in keeping the faith.
I wanted to share this photo I just received taken at a party I had the joy of attending  last November. Lion Brand Yarn, a family-owned business with whom I have the privilege of working, opened its first Studio on 15th Street in New York City. It's a gorgeous space with a vast array of yarns and inspiration.
It was such a wonderful night as everyone associated with this great company's success was part of the celebration, including their knitting enthusiast spokeswoman, Vanna White. Sharing the photo with me and Vanna is the CEO of Lion Brand, David Blumenthal. I'm grateful to Gale Blumenthal for this image.
No vowel jokes, I promise.
Taking my own advice I've decided that rather than offer a Luxury Spa Retreat at Canyon Ranch for women business owners, I'd make a change.
What feels right to me, at this time in our economy, is to offer a similar experience–allowing time to focus on what you really want in your business and your life–but at a more economically sound location:Kripalu, one of my favorite places on earth.
I've been going to Kripalu for about 20 years for rest and renewal, for experiential programs, juice fasts, meditation retreats and fun. I credit it with being the home of much of my transformation in my life and work.
Now, I want to invite my participants to join me there. The program will be exactly the same, but the carpeting won't be as thick. The food is delicious and health-focused, there's a great sauna and whirlpool, massages and other holistic treatments are available and the price is right. Instead of the $2500 price tag for the Canyon Ranch experience, our early bird offer (sign up by February 15–a great Valentine's gift to yourself, and it's deductible) is $995. That'll include all meals, housing, yoga and dance classes as well as the Create Your Own Future program. Watch for your invitation early next week…
It just feels right.
My friend and colleague Terri Lonier asked me to alert my entrepreneurial  colleagues to a Small Business Survey that she is conducting. Terri has been a thought leader and innovator in the entrepreneurial world for years. She's someone I admire and respect, so when she offers any opportunity, I grab it and spread the word. I wanted to share this one with all of you. What's extra great about this is that Terri is making a tempting offer to all participants.
Here are the details: Working Solo has put together a Small Business Survey that takes about 7 minutes to complete. Participants are eligible for one of 24 prizes, including a $500 gift certificate to Amazon.com or a new iPod. To take the survey, follow this link: www.WorkingSolo.com/survey.html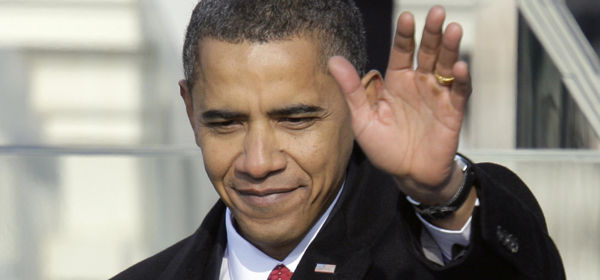 There are multiple reasons I rejoiced watching our 44th President being  sworn into office:
I'm so grateful for the hope he brings our country.
I admire his grace and stature.
I witnessed our country coming together through the masses of people gathered to celebrate this historic occasion.
I loved how Obama paused when Chief Justice Roberts got the words wrong and waited for the corrected version to be spoken.
I believe Obama acknowledged the truth of our current situation, and did not minimize what it will take to bring America back to its roots of integrity and strength.
I loved having the personal freedom, because I work for myself, to indulge in watching as much of the proceedings as I desired without having a boss to report to!
In addition to connecting 80 women last Monday night and having the best time in the process, I also wanted to set a tone for the New Year that would motivate and inspire everyone who attended. After each of the attendees introduced herself and shared a success from 2008, I added a few thoughts of my own. Kelley Taylor requested a copy of my tips, so I thought I'd share them with everyone at the same time. Thanks for the nudge, Kell! Here's what I said:
I want to call forth your ability BIG TIME in 2009. Here are three things I want to challenge you to do. And please, join forces with some of the incredible women here tonight to make this happen.
1. Use your gifts. Even if your calendar isn't 100% booked with clients, figure out a way to continue your practice.
Keep putting out what you do via direct mail, email, phone calls, flyers and networking.
Barter – Offer your services/products in exchange for something you want or need.
Give it away in demonstrations.
Teach what you know.
Change your offerings to match your clients' needs.
2. Get out there in a big way. When I look around at you all and think about how you've come into my life, it was through following this advice. Here are some of the ways we've met:
Go to networking meetings (EWN, WBDC, FNEW, etc.)
Join BNI.
Join Toastmasters.
Start a blog or newsletter.
Call 20 people in your  Rolodex and ask them what their goals are for 2009.
Make a commitment to one person here tonight for an action this week and follow up.
3. Stay positive!
Make a date with someone you meet tonight and arrange coffee, tea or lunch.
Throw a party! Collaborate with women you've met and send out the invitations. Make it pot luck. It doesn't have to be expensive. We need to see and hear each other. Invite me!
Extra Credit assignment:  Do all of the above.
I received the most beautiful flower arrangement from client Karen Hodges on Wednesday–her way of saying thank you for coming to my event Monday night. She had called earlier in the day to ask for my street address saying she wanted to send me something. An hour later the doorbell rang with a deliveryman presenting me with a vase full of spectacular roses, hydrangea and freesia.
When I opened the card I had a big smile on my face. But the message confused me. I immediately called Karen to thank her and to ask, "What did you mean to say on the card?" She started laughing when I read what was written on the enclosure. Then she explained that the young woman to whom she had dictated the message wasn't that familiar with English. Karen had wanted to say that the evening was filled with love, light and laughter. Here's what the card read:
Dear Jane,
Light and lobsters filled the room…
I got two gifts that afternoon–Karen's love and a great belly laugh!
Whatta night!
It started at Kate Eisemann's very cool new photography studio in a prime retail location in Wilton, CT. Her goal last September, when she came into my Mastermind Group, was to have 20 of her images on display in her own studio by January 2009. She wrote it down and began taking actions to make it happen. She told the uncanny story of how it unfolded in an affordable and magical way.
Women came from far and wide to be there–Hilary came from Chicago, Jill's supportive boyfriend Don drove her here from the Boston area, Doreen and Lisa arrived from P'town and Karen arrived from Rhode Island. We had photographers, interior designers, wellness professionals, realtors, writers, craftswomen, wardrobe consultants, coaches, financial advisors, professional organizers, entertainers and a modern day priestess.
Every woman in the room introduced herself, the name of her company and spoke briefly about an accomplishment from 2008. By the time the first dozen women had completed, we were all in rapt attention. With only a brief break while the videographer re-loaded his camera, we spent nearly an hour and fifteen minutes listening to each others' successes. I think everyone would agree it was captivating and inspiring.
There's more to tell than in this entry, but I will have video footage soon to share. (After trying a few contacts to come and shoot the event without success, I went on craigslist.com and hired a gentleman from Danbury who was happy to have a party on a Monday night.)
I can't say enough about the experience yesterday evening of being in a room with 80+ remarkable women defining their own uncommon success. But one articulate attendee, journalist and college teacher Joanne Kabak, can:
I happen to have started listening to Stephen King's book of short stories yesterday. The first one was, as usual, well-written and creepy. But it kept repeating a consistent theme of "perception and expectation."
I thought it was a perfect match for the evening's experience. In this downbeat economic time, where the media news is virtually all bad and a sense of hopelessness is invading so much of the thinking about money, jobs, prospects for doing anything that brings in income – never mind doing something that you truly dream of doing — your event was a game-changer in terms of perception and expectation of what is possible, rooted as it was in real stories of people succeeding in the face of today's realities.CNN should have been covering it!
I'm having a celebration tonight for all of my past, present and a few prospective clients. I'm thrilled beyond belief that 80+ women will brave the arctic temperatures to be together. More later this week…