You are currently browsing the monthly archive for February 2009.
At Ridgeway School, my elementary alma mater,  before public prayer was banned, we used to have a morning ritual where we bowed our heads and asked God (imagine that!) to give us clean hands, clean hearts and a clean mind. Further, we asked that we be able to choose the hard right over the easy wrong. I don't remember the rest, but those particular words come back to me time and time again.
Even though it's been decades since their recitation, they popped up again this week when speaking to a potential client. As much as I like to add clients to my roster, I knew in my heart that this would not be a fit. There was a disconnect between what this person was saying and who she was being.
I'll give an analogy to provide anonymity and protect feelings.
Imagine the disorientation you might experience if you wanted to hire a professional organizer and you arrived at the appointed time only to be kept waiting. Then, what if the person showed up in a tizzy with an overstuffed Filofax and mismatched gloves. Chances are, you would not invest your time and dollars to have this person help you organize. (Disclaimer: I love the professional organizing and NAPO and used this example only to povide a clear and colorful scenario. I know no such person!)
With my Tuesday prospect–the one who talked the talk (BRILLIANTLY, may I add), but didn't walk the walk, I attempted to gently explain where I saw the values conflict I was experiencing: "I can't be a good coach to you without having you own this piece of the issue."
She listened graciously and asked if I might have the name of another coach, which I willingly offered.
I felt authentic and clean in the process. Though a hard message to deliver, I pray (publicly) that this person will hear the heart in what I said.
I've worked with Arlyn over the course of a few different Mastermind Groups and have seen an evolution and unfolding of her imagination and skills that reinforces why I do this work. I'm not sure if everyone has the 20-20 vision to see the artist inside the corporate headhunter, but I am blessed with that talent.
Fortunately, Arlyn gave me the opportunity to challenge her creativity. I'll never forget her surprised, awed and excited reaction to an early  homework assignment: Come to our next session with 100 swatches of knitting patterns you've created. It unleashed her inner artist, took away any judgment about her work since volume was the desired outcome, and put her into action mode, something she'd been resisting. You know, that analysis paralysis thing.
Arlyn was wearing this same cool knitted scarf as seen above and in the video (click on her name to see Arlyn live) when I remember her telling me she was having growing pains in her business. She wondered when they would end. "When you stop growing," I reassured her.
While I'm not an advocate of doing business 24/7 or bringing your Blackberry to the lunch table, I do believe that you can operate from anywhere these days. The reason I mention this is that good friends of mine have been planning a trip to Florida this week. One of them just lost his job and thought that he may need to stay home in CT to make phone calls, follow up on leads and suffer.
A wise colleague of mine has a penchant for saying, "I carry my office with me in my pocket," meaning that wherever he is, he's open for business. It could be the car, an evening at home or actually at his desk with file folders in hand. He is 100% reachable, if he wants to be.
Another associate suggested that it would be a great opportunity for our mutual friend to learn how to do business on the beach as she has done in the past. I say, "Ditto!" A well-planned and pre-paid (!) vacation is essential to our well-being. It would be deprivation to deny yourself this opportunity.
I do want to advocate for the flip side of the availability issue, too. And that is to choose occasions where you are consciously unavailable, like dinnertime. I just got back from a weekend Relationships Coaching program where I intentionally turned off my phone throughout the day. I've taken week-long vacations where my outgoing messages–both email and phone–said I would respond when I got back.
The important piece here is that you get to decide. What are your priorities? What's most important? Is there room for both? You run the office. Don't let the office run you.
When my speaking colleague/coaching client Kevin Carroll mentioned a game he and his daughter invented, it wasn't much of a stretch for me to recoommend that he talk to Mary Ellroy. You may remember my mentioning Mary before in previous entries. Besides being a good friend and member of my own Mastermind Group (the one that's been together for 15+ years), Mary was also one of the Artsy Girls we honored in December. She was recently installed into the Toy Inventors Hall of Fame.
The two of them connected and VOILA! Mary loved Kevin's idea and partnered with him to navigate the ropes of bringing a game to market–no easy task. Here they are at the current Toy Fair in NYC.
I love putting talented people together and feel so appreciated when they let me know the outcomes of the match–something I don't take for granted. Here's what Kevin had to say:
It would not have happened without your keen listening skills and unending desire to see everyone you meet succeed.
Coaching is easy when you have great clients like Maria Scrivan. My job is to listen closely, ask questions and challenge my clients. My favorite clients are the ones who say 'yes' to the challenges. They are quickly rewarded.
One of Maria's challenges, being the multi-talented woman she is, was determining how she wanted to represent herself. She's been a successful web designer for 15 years and is ready to 'come out' as an artist in her own right. As she puts it, "It's a deserving thing." I remember how long it took me to stake my claim at networking events during my egg decorating days. "I am an artist." The only one who needed convincing was me.
One look at Maria's work substantiates her claim as an illustrator, which is ultimately how she defines herself. That meant peeling away the layers of photographer, fine arts painter and web designer–all of which are true, too. Once Maria let go of having to be ALL of those things she said, "I feel liberated."
Maria recently sent me an illustration she created prior to Valentine's Day. It touched me so deeply–the sensitive combination of 21st Century technology and the ancient need for love and connection. Not only is Maria a gifted illustrator, her work gets to your heart.
There are two cool things for you to discover in this entry: Nancy Moon's creative business offer and her applause-winning description of the outcomes from our goal-setting work together.  (Click here to get right to her video clip.)
Because I surround myself with entrepreneurial women, I have the privilege of watching many small businesses up close. One trend I'm noticing, as a reflection of what's going on economically, is the agile reshaping of  business offers. I'm doing it myself, like switching the location of my goal-setting retreat from the luxurious Canyon Ranch setting to the more affordable Kripalu location.
The offer  I'm focusing on in this entry is presented by my good friend, colleague and client PR maven Nancy Moon.  You can read her bio (just click on her name) to see what outstanding credentials she has. She's one of the most exciting people for me to talk to because she's always on top of the latest news and trends. Nancy frequently forwards me email opportunities to become involved in emerging and vibrant networks, promotions and meetings with the media. She's got her finger on the pulse of everything that is current in the marketplace.
Watch the video clip in which Nancy describes MOONLite. This is her scaled down and more affordable package. It's  for creative business owners who need Nancy's services and can do a lot of the legwork themselves to save extra dollars.
The marriage piece? You'll have to watch the video clip to find out about that!
Oftentimes, my favorite client stories are about converts.
Such is the case with Sue O'Halloran who attended one of my Mastermind Group series last spring. Sue has a huge vision for helping women toward preventive health care. This undertaking involves an enormous demographic, could potentially serve women around the world and will involve partnering with hospitals, corporations and possibly governments. Big thinkers like Sue don't always savor the mundane  elements of these big equations.
But I knew in my heart that in order for Sue to begin selling this concept to hospitals and corporations she'd need to demo a pilot program and watch sample audiences try out her materials. At my party in January she referred to the friendly battle of resistance (hers) and persistence (mine) we went through before she committed to do the workshop.  Click here to view Sue's willingness to take this step in the process.
I can't tell you how tickled I was to receive Sue's beautiful invitation this week to attend her first public "Here's to Life" Workshop being offered at Noelle: Spa for Beauty and Wellness (my favorite!)–a perfect partner for this program. Check it out and sign up. (Scroll down for Sue's event.)
"I am committed to destroying the myth of the starving artist."
When I read that quote in the NYTimes Sunday Business section in December, I knew I had to take action. I, also, am committed to seeing women (men, too!) thrive and prosper in their creative endeavors. I recognized a kindred spirit and wanted to reach out and join forces.
I immediately wrote a letter to the gentleman quoted and was honored to get together with him on my trip to Florida last week. Here I am after that inspiring meeting.
I once believed that if you were really talented you would never have to market yourself or take one tiny step out of your comfort zone. You would be discovered and your world would be filled with ringing telephones, opportunities and patrons.
Receiving a call from the White House in the early 80′s, which was a life-changer,  substantiated that belief. I was asked to participate in the annual Easter Egg event by submitting my painted eggs to their display. That remains the one and only opportunity that came my way without my being able to trace its origin.
EVERY other opportunity I've ever had has been preceded by an action I've taken:  selling my wares, sending direct mail, blogging, speaking, networking or exchanging a business card with someone over coffee.
I'm not sure what will develop from this new alliance, but I am sure that honoring the urge to schedule an appointment 1200 miles south of my home was a passion I had to follow.
With tax season upon us I'm hearing several of my creative clientele, after seeing their bottom line for 2008, asking "Should I be looking for a job?"
One of my most gifted clients (I'll refer to her as Sue–not her name) and I had this discussion early in the week. Sue had just met with her accountant*, interestingly a quilting hobbyist, who gave Sue dire warnings about her financial future. I mention the hobby thing because I believe it has an impact here.
People who aren't pursuing their dreams, who haven't taken the risk to 'live' their art, may not be the most reliable sources for creatives to listen to. I know I may get into trouble here, but I strongly advise my clients to manage their feedback, consider the source and make their own decisions about which bottom line to regard. When you're happy in your life, with whatever work you choose to be doing, you're not as likely to step on someone else's dream.
Sue, by the way, has had her best year ever financially. She  started our conversation by saying that the accountant "doesn't know my work" which spoke volumes from the get-go.  Sue is doing extraordinary, ground-breaking work in her field. She's been awarded two grants, has curated shows in her area of expertise and is developing a collection of pieces for a museum exhibition. Sue is not in debt, has a newly renovated studio that has added value to her home and a business that is self-supporting. Her family is supportive, loving and proud. Considering the insanity that is prevalent in today's financially mixed-up world, this represents immeasurable success in my book. In addition, her business has paid for her to travel to museums and exhibits, for all of her materials, for the expenses of networking and socializing with peers and the many volumes she's read in her field and for inspiration.
In my book it comes down to values. When you're happy in your life, passionately pursuing the work you were put on this earth to do, giving off positive energy because you've got it to give, then your tax return is not the measurement to hang your hat on. Create your own personal accounting system for April 15 and on it measure your health, your joy in living, your mental attitude, your relationships and your sense of connectedness in the world. Then decide whether you need to go look for a job.
By the way, at the end of our coaching call Sue said, "I can't not be who I am." Sometimes these incidents show up in our lives to remind us how much what we do means to us.
*Disclaimer: I love my accountant, Janis Siegel, CPA, who has never even hinted that I should look elsewhere for employment. This entry is not anti-accountants, only anti-dream killers in whatever guise they enter your lives.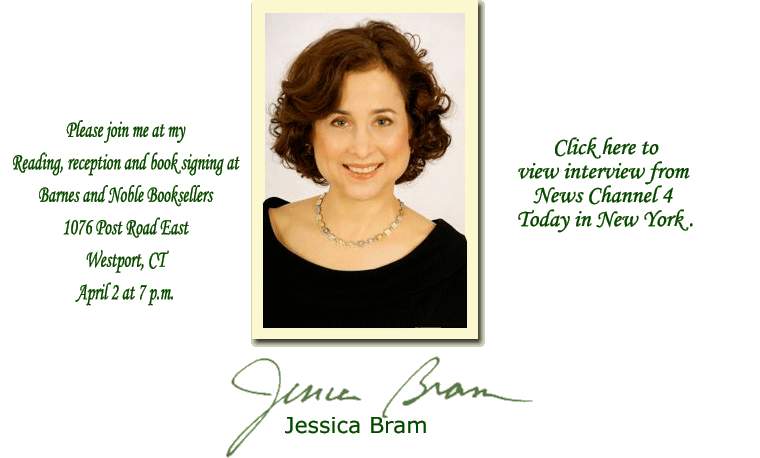 One of the most dramatic professional changes I've been privileged to witness since I began coaching in 2002 is Jessica Bram's transformation from public relations practitioner to full-time writer.
Jessica and I have worked together in just about every capacity I offer–one-on-one coaching, Mastermind Groups and my Create Your Own Future retreat. In that time she has created a vision for herself, done the work of transformation (no wands involved here!), grown and changed into the writer she'd always dreamed of becoming.
For years I heard Jessica say, "I want to write." Now she says, "I'm a writer." If a picture is worth a thousand words, a video clip is worth millions. Click on this link to hear about this in Jessica's own words.
To learn more about Jessica's book, her writing workshops, her commentaries and her blog click on each highlighted link.