You are currently browsing the monthly archive for February 2010.
I had the good fortune to use the organizing services of Emily Vetrosky of Organized Interiors by Emily last week. I gave Emily my wish list, then left to run a meeting. When I got back I was happy to see the results of her efforts.
One area of concern is the drawer where I keep all my correspondence materials, collections of cards I've bought throughout the year and envelopes and notecards I enjoy using. But I had a nanosecond of discontent when I saw the label Emily had printed out with the word 'stationery' misspelled. I'll never forget an elementary school spelling lesson that taught 'stationery' meaning writing supplies has the letters 'er' as in paper.
Anyone who has seen my intricate artwork knows my attention to detail. It was a tiny error, but it would bug me every time I opened that drawer. I sent Emily an email thanking her for her outstanding work, then gently letting her know the correct spelling of stationery. Not an important complaint, but thought she'd like to know. She was most gracious.
I knew I'd eventually print out my own label, but it was not a high priority. So you can imagine my delight when I opened my mail the other day and found this:
Besides being an excellent organizer, I now have the experience of Emily as professional, gracious and responsive. I can't wait to recommend her! Oh! I just did.
There's a misconception out there that when you get published the automatic result is fame and fortune. That's the power of the press. If there's ink about you, you must be successful and rich. Not so.
A colleague and I were comparing notes over coffee yesterday. She had seen a wonderful article about me and my Remarkable Women's Network events in the Greenwich Time that morning. She referred to a full-page feature that had been written about her which resulted in only one phone response that had nothing to do with that article's contents. I nodded in recognition of that outcome. Been there!
I commiserated. There have been many times where the article I thought would change my life didn't. I've learned through experience that it's not the press that gets you business. It's what you do with the press that gets you business. The word is out there. You've received that coveted third party endorsement. But we all know how fleeting that is. It's our job to take that promotional material and continue the promotion.
I intend to make copies and send them to the wonderful women who were quoted. I'll also snail mail a copy to Eileen Fisher whom I refer to in the article as my role model as a woman entrepreneur. Talk about third party endorsement. In addition, I'll add links to my website and make copies for future promotional kits. Getting published is just the beginning of the PR journey. Reaping the rewards is a long-term prospect. Your name is in the ozone, but getting the word out and enjoying the benefits of that only begins after the excitement of publication wanes.
I was helping my good friend Aimee with her vision statement over the weekend. For those of you who have never participated in this exercise, I highly recommend that you write one to give yourself clarity about what you want to have in your life and/or business. You can write it free-form, or begin it with the words "It's December 31, 2010 and I've had my best year yet." Then fill in the blanks that got you there in exquisite detail.
I'm smiling as I write this because Aimee and I just had an email interchange that is very typical. She wrote a very reasonable statement. She's an excellent writer, so that piece is a slam-dunk. I made some suggestions. Where I questioned her and drilled down was on the specificity factor.
Where Aimee wrote "I make a substantial profit" I asked her to write down the exact amount. If you were the Supreme Being, how much would you give her? Would it help you to know that she anticipated $500 or $5,ooo,ooo in profit? Where she wrote that her play was picked up, I added spaces for 'by whom' and for 'how much'. Getting the picture?
I asked Aimee if my questions made her nervous. I acknowledged that getting specific amps up the scariness factor and takes you out of vagueness. Simply stating a desire for two new clients in March is more powerful than saying, "I'd like to have two to three new clients in March."
In her typically generous fashion Aimee responded to my request to share our conversation on my blog. "If my pain can help others,  go for it!"
Honestly, I don't mean to inflict pain. Watching friends and clients writhe in indecision and vagueness is far more painful than having them commit to a scary, but specific goal.
I am sitting in my living room in tears having just watched Tiger Woods apology on TV. I am blown away by his candor, his admission of his transgressions and his taking full responsibility for his behavior. There was never any doubt that the press had uncovered a huge scandal, but his standing up and claiming ownership the way he did is impressive.
I am deeply touched by his openness regarding his therapy and dedication to getting the support he needs. I feared that his apology might digress entirely in the direction of the cause of his foundation, but he quickly made his way back to the topic at hand.
Those of you who read my blog regularly know that I rarely comment on current events, but this press conference had me riveted. Not only am I part of a recovery community myself, but I also regard Tiger Woods as a quintessential entrepreneur. He humbly demonstrated how to tell the truth. What he did today was amazing to me. He accepted total responsibility for the mess he's made, asked for help, admitted that he will continue to seek treatment and even talked about looking for spiritual solutions and increased balance in his life. When he ended by giving his mother a gigantic hug I dissolved.
I sincerely wish him all the best one day at a time.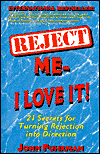 John Fuhrman, a colleague of mine in the National Speakers Association, wrote this book in the late '90′s and his speaking career took off. It seemed that everyone wanted to hear from someone who embraced rejection. God knows there's plenty of it in the business universe. I can honestly say that I have come to appreciate it too. The loving it part comes about a decade afterwards though for me.
In one day this week I heard two tales of rejection, one from a friend and one from a client–both painful and neither particularly lovingly received. Each woman had put herself at risk by submitting heart work, which makes the dismissal more keenly felt. If they were selling appliances, it couldn't feel personal. Offering oneself for a teaching position or sending in a book proposal–now that feels personal.
Only it's not. It's a very crowded marketplace and a down economy. It's a numbers game. But here's the hope. The current conditions are what have us get creative. My advice: think of 25 new ways to get your gifts out there. I have clients who are creating special events to test out new ideas, a la Tupperware. Invite a handful of friends over to experience your talents and see what sticks.
Each of us derives our own lessons from the rejection. Where they take you can lead to your next great discovery or strengthen your persistence muscle which is the life force of any success.
Pile up those rejections and go blissfully forward.
Cookie Russo (left) and I met at Camp Chinqueka as young girls–eight and ten. We were drawn to each other back then and re-united when Cookie found me at Mount Holyoke College where she entered a year after me. Our friendship re-ignited living in the same dorm and choosing the same major–Studio Art. So, I've known Cookie longer and better than any other friend, which I cherish.
Not surprisingly, Cookie (or Marisabina as she's known professionally) created a successful business out of her art background. She has become a very successful author/illustrator of children's books. At lunch on Saturday she gifted me with a hot-off-the-press copy of A Very Big Bunny and told me how she got inspired for this most recent publication.
When donating her time for an unrelated community art project Cookie meticulously painted the first two sections of her entry. Then, noting the time, quickly finished it off with a flourish, but little concentration. That last piece, so fluidly done, was the bunny's face. It caught the eye of an editor who fell in love with its simplicity and became completely captivated. A Very Big Bunny was born out of that gesture made without planning or expectation.
I love this story! How many times do we labor over an apostrophe or comma only to then dash off a paragraph that effortlessly captures our essence and communicates it to the world? I'm a huge believer in doing what you love and letting go of the results. Cookie couldn't have planned this better than it came out. She was doing what she was born to do, worked really hard at contributing a piece of her talent, let go at the end and achieved a greater success than she could have dreamt up.
Debbie – Lena – Cathline
Friday was such a rewarding day. I was on my way to spend an hour with a web/graphic designer in the city. Navigating the crowd from the train into Grand Central Terminal I recognized my client and colleague Debbie Fay of BeSpeak and joined her for a quick exchange.
I thanked her for her recent referral to my mastermind group and mentioned hearing good things about the work she was doing for one of my clients who had recently sought her help with presentation skills, Debbie's forte. When I asked Debbie where she was heading in NY, she mentioned a familiar company name that made me smile. Debbie had had this organization high on her client wish list, and here she was on her way to an appoinment. As we parted we both acknowledged how grateful we were to have each other as referrals. It's the sweetest business to get.
Before heading for the train in the morning I had received a big Valentine from my favorite blogmaster, Lena West of xynomedia. Lena taught me everything I needed to know about blogging and has continued to be there for me not only to answer questions (why is one reader receiving all of my blog comments in her inbox?), but also to help everyone I refer to her. Lena had selected my business to talk about when Entrepreneur Magazine asked industry leaders to pick their favorite companies. Click here for Lena's most generous words.
The meeting in the city was also rewarding. I met with Cathline Marshall who had attended my Remarkable Women Network event at Eileen Fisher in NY last month. We wanted more time to get to know each other so that we could also act as referral sources. I was knocked out by her portfolio presentation and got a clear picture of who her ideal client is. Having experienced my networking event and hearing more about my coaching services, we behaved like good networkers and found out how to add value to our new relationship.
Having people like Debbie, Lena and now Cathline in my professional life makes working feel like joy. I want to put it out there that membership in my Mutual Admiration Society is wide open to applicants. The only requirement for membership is 100% dedication to keeping our clients happy and successful.
Integrity – The quality or condition of being whole or undivided; completeness.
That was the first word that sprang to mind when I received an email this morning from 341 Studios announcing their new logo and website. They've done a terrific job of showing off their clients in increasingly successful ways. Now they've done it for themselves, reflecting back that quality of completeness. How many times have you wanted to hire a service provider, only to notice that that shoemaker wasn't wearing their own shoes?
I began working with Felicia Rubinstein and Gretchen Bruno, the owners of 341, a couple of years ago. The talent and enthusiasm were there, but they knew they needed to get systems in place, fine-tune their portfolio and get their own ducks lined up. The simpler tasks like clearing space, getting that-damn-printer to work and planning fun times for their company opened up energy and enthusiasm for the more comprehensive projects requiring teamwork and strategy.
Today's launch is the VOILA of that intensive dedication and talent. They produce great results for their clients and demonstrate it beautifully on their exciting new site.
…a coaching certification program I was enrolled in. This is highly unusual behavior for me. I want to share my process.
I don't need to mention the name of the organization because this is not about them. Many other students in the program are  satisfied. It's about me, how I value my time and the work that I'm doing.
The class met regularly by phone from 12:30-2:30pm every Wednesday. Classmates called in from California to Denmark. We've been together since October and the others will continue the process into July. But I wasn't feeling a sense of connectedness with the material or the other participants. I wasn't inspired or motivated by the weekly documents I downloaded from the digital library. I began to resent not being able to schedule anything on Wednesdays during that time period. I noticed how my body was responding to the notebooks on my desk and anything related to the program.
One of the key learnings I received during the in-person training for this discipline, which I adored, is that the body is the midwife to the mind. Feelings in our bodies (we shouldn't ignore) will show up before words have formulated around them in our brains. We need to trust these.
Although I had a satisfying conversation with the founder of the program about my complaints (which she took to heart), the bottom line was that it didn't work for me. And that's enough to know. Speaking with her and then letting my classmates know was challenging. This is the grown-up stuff of life and business that confronts us regularly. How we move through it is a measure of our maturity and the willingness to be humble and teachable.
I'm feeling a little more mature, definitely humbled and also free of what felt like an obligation.
I'm in Sarasota, FL this week visiting friends and taking a break from the winter weather in the Northeast. I had two invitations to visit good friends with homes down here, and I jumped at the opportunity.
Linda Koe (pictured with me here) and I met several years ago when a colleague suggested that we might have similar creative interests. At the time, I was running my art business and Linda was selling vintage quilts and other artifacts. We partnered to create events called Celebration of Traditional Crafts which attracted lots of attention and sales including a write-up in the New York Times Connecticut Section.
As our working styles meshed and our sales grew, so did our friendship. We always celebrated after each success over lunch and conversation. We've since both closed those aspects of our companies, but the friendship remains. Here we are pre-bike ride around Anna Maria Island, a charming area and a good flat ride for this amateur cyclist.
I'm at the beginning of some new business relationships now that are inching forward more slowly than I'd like. Am I the only one who wishes that I could have that old-friend feeling with new prospects? One of the things I'm realizing in my maturity is that my winning style is, and always has been, slow and steady. I have to admit that I'd still love to have that immediate hit of excitement and success. But the relationships and business propositions that have been the most rewarding for me and those I work with are the ones that have developed slowly and over time.