You are currently browsing the monthly archive for March 2012.
I've just returned to my office after a networking coffee date with Christina Frei, and rather than being exhausted on a Friday afternoon following a busy week, I'm exhilarated.
I'm still marveling at how this whole afternoon materialized. I'd received an email from Christina a week or so ago with a perfectly articulated invitation to join her for coffee at 3:30pm on Friday at Coco Michelle–a coffee and chocolate boutique opposite the Westport train station.
I often advise my clients, and particularly my webinar participants, to reach out to their sphere of influence and meet regularly with people in that community for marketing their new ideas. Today, I was on the receiving end of exactly that kind of an invitation.
Christina and I go back a few years, having been matched up by a mutual friend who thought our interests aligned, which they did. Anyway, I wasn't sure what Christina had in mind today, but her invitation for a coffee treat was irresistible.
When we met, and after we had ordered delicious coffee beverages, Christina asked if she might tell me about what she's been up to since we'd last seen each other. I couldn't wait to hear. She then began to tell me in a most entertaining and informative way about the book she's written and how this will impact her career, not to mention education in this country.
I was breathless after hearing her story. She announced how 'on fire' she is because what she's doing is a manifestation of what most inspires her–teaching young kids (middle school aged specifically) about our Founding Fathers–not your typical woman business owner's profile. Her enthusiasm ignited mine, and we began brainstorming and sharing resources and next connections.
This is a powerful example of how to let people know about what you're up to. Christina took a chance in reaching out and extending herself to me. She sent an attractive offer with a clear plan. She had an agenda which she stuck to. I was honored by the preparation she'd done and was excited to be in her presence.
She is speaking her idea and getting feedback. I'm one of many to whom she'll repeat this exercise. She is a living example of how to do this right. The key ingredient is was something she expressed during our conversation–that she knows how on track she is because she is fueled by her own excitement.
Christina Frei is a role model of someone who has found her passion, is discovering how to make it marketable and is getting out into the world with her message. I know she's going to find great success, and I couldn't be happier to be a witness to her process.
Christina's target market is middle schools in the US. If you know anyone who is as passionate as she is about educating this segment of our population, particularly around American history, please be in touch with me or Christina.
One of the most telling comments I've remembered over the years regarding 'the voices' we (all) hear in our heads was the speaker who suggested to skeptics, "You know…the voices. Like the one speaking to you right now saying you don't have any voices in your head. Those voices."
I have yet to meet anyone who's swimming solo out there.
But the voices disguise themselves very well. We believe them, that they're actually our thoughts and some form of higher wisdom. I don't know about you, but my voices never reinforce the powerful intuitions I receive, the hits of creativity and originality, the inspired thoughts that come my way. In fact, they're each about one car-length behind those more generous thoughts with their specially crafted brand of negativity and advice.
On Monday night, April 2, my Remarkable Women's Network theme is a Gremlin Tea Party. I'm inviting those critters in, along with 30+ remarkable women, to duke it out. As a longtime coach, I know how to deal with these saboteurs. My coach calls them con artists. Whatever name they go by in your vocabulary, they're dream killers, and I want to exact revenge.
During the evening I'll offer several strategies for confronting these voices. Five women business owners will be offered the chance to coach with me on how to deal with statements like these that come out of the mouths of those creatures:
"Who do you think you are?"
"No one will pay for that!"
"You call yourself an expert?!"
Everyone there will benefit from the strategies and tools I use to deal with these impostors. I've done it before at my goal setting retreats, and the transformation is palpable. Like throwing water on the Wicked Witch of the West. These mean-spirited entities dissolve and disappear when they're called out in public.
I hope you can join me next week (register here for one of the few remaining spots) or send a comment and let me know your familiar voice's 'advice' to you.
While on the Holistic Holiday at Sea a few weeks ago, I had the privilege of hearing many experts speak. One of the most compelling classes I attended was titled The 5 Essentials of Health given by Christina Pirello. Her own personal journey to health is amazing. Click the link on her name for a short version. As I enumerate Christina's 'levels of health,' see if you agree with me that these are vital qualities for any business owner to be aware of and strive towards. This list is from my note-taking and may not be word-for-word how Christina describes them.
Clarity of thought – results in decisive action
Appetite for life – cannot wait to start your day
Good sleep – This can be highly underrated
Good memory – This piggy-backs on good sleep where everything regenerates
Energy – Stamina and endurance
I'd be curious to hear how you're doing with these essentials and if you think she's missed anything. Personally, I think she's covered the bases very well.
Before going into the levels of health, Christina helped us understand the levels of illness. What surprised me was that the #1 issue is fatigue. I hear so many people say, when asked how their health is, "I'm fine." But if you probe a little deeper, exhaustion often comes up. "I'm fine. I'm just tired." We tend to overlook this as a health concern, so I perked up when she listed that first as it's quite an attention-getter.
I'm not a health coach, but this level of self-awareness is a key component in my client's success. Is it time to take another look at your own energy level, memory, etc?
Here's one I'd never heard before.
As I've mentioned, I'm incredibly excited to be speaking at the Stamford TEDx event next month. I had a conference call with the organizer yesterday, and the question of attire came up.
Now, I've heard of casual, black tie, festive and business casual. But his dictum was completely new to me. "The speakers should be a half shade better than the audience."
Huh?
I had to laugh because I sort of understood. Fortunately, he went on to explain that most of the attendees would be wearing jeans, so I'd want to be a step up from that. Certainly not business-y, but somewhere between 'smart casual' and streetwear.
You'll have to watch the video in May to see my choice.
I am not happy with priceline.com. I booked a 3-star hotel in Boston near the facility for my coach training this weekend. When I mentioned where I was headed to a good friend who used to live in Boston, her words to me were, "Be careful!" Not what you want to hear when you're traveling solo.
I knew when I pulled into the parking lot of the Chelsea Wyndham that I should have spent the $30-50 extra to stay right at the venue where my class would be. But, ever frugal, I tried to outsmart the system. When I checked in at the reception desk I received a small note that fit into the hotel room key card holder. Here's what it said:
For you Protection: Please remove all valuables from your vehicle. Do not leave electronic devices, Cables, Laptops, GPS Navigation Systems and mounting devices in your Vehicle [sic].
"You mean," I asked the receptionist, "that I need to take down that rubber device that attaches my GPS onto the windshield?"
"Oh, yes," she said. "And we can easily provide you with this Wet One and some towels so that you can rub off any marking that shows you have one."
Now that's a perk I'd prefer not to have next time I stay in a hotel.
P.S. I'm back safe and sound…not to mention wiser.
I'm truly looking forward to my JV (Joint Venture) call tomorrow evening with Gail Doby. I was referred to Gail by Victoria Lyon who I met at a SHE-E-O luncheon created by Carolina Fernandez, who I met as a referral through Gene D'Agostino many years ago. Have I hit six degrees of separation yet? This name by name analysis is to demonstrate what it takes to become successful. One of my mantras is: Follow All Leads.
Each of the relationships along the way has been gratifying and productive, and now I'm here, sponsoring a call by Gail this Tuesday at 5:30pm EDT.
Gail is a business role model for me for where I'd like to be in a year or two. While I've created, offered and completed my first webinar series, Gail already has multiple webinars in her inventory. She also has recorded interviews with industry experts to add to her clients' knowledge base . Her mailing list is at least quadruple mine. She has a partner who understands the technical back end of her business. This serves as a complement to Gail who excels at the creative and front end for the team. I admire what she's accomplished and believe that she is ahead of me on the path I'm pursuing.
Her talk tomorrow night is about setting fees and avoiding the disasters that can come up for business owners who aren't comfortable in this arena. Who doesn't need that? Gail has been in the interior design industry for years and has created strategies and content that address this issue, along with multiple other issues, that soul proprietors like you and me face daily.
From my conversations with Gail to date, I see that we approach business from different perspectives. I'm particularly excited to hear hers on this subject. I hope you'll join me. There's still room. (Click here to register.)
"Unless you're bleeding, don't come in for the next hour," I would tell my daughter Laura back in my home office/egg decorating days. That was my inelegant way of establishing privacy and quiet time for my work. I didn't have better tools back then and blush at how crudely I stated my need.
When my client Mary called last week and spoke about a similar issue, I understood her pain. As moms working at home, establishing a quiet zone that will not be trespassed is a frequent concern. And it's not only children who have trouble staying away. Mary's lovable spouse likes to talk and is currently between work opportunities with time and feelings to spare.
Mary has set up an attractive, well-lit and neatly organized space for herself in the basement of their home. But there was no door on it to shut out the world when she's working. Mary has all of the qualities of a great coach, so her husband saw her irresistible presence at home, albeit in this space, as an invitation to hang out. She adores him, too, but as a professional starting this at-home business, enough was enough.
Most of the time when I'm coaching, I ask powerful questions of my clients knowing that they already have their own answers. In this case, I simply asked, "Could you put up a door?"
Mary laughed out loud because that had not occurred to her. Because of the architecture of the space, a door wasn't going to work. But within 3 hours of our conversation I received this image with her already implemented solution. I could feel her joy in the execution and the gentle, but clear boundary she established. BTW, names have been changed to protect the innocent.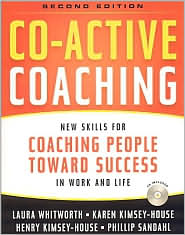 I'm very excited to be attending a training session in Boston this weekend to update my coaching skills. We will be taught by the founders of CTI–Henry and Karen Kimsey-House–who are traveling the country and the world to instruct us in a new part of the program they've developed.
Participants who've enrolled in CTI's coaching study more recently have already been trained in this new process. The course on Saturday is intended for CPCC's (Certified Professional Co-Active Coach), those of us already certified by CTI, to learn the new processes.
In addition to re-uning with Henry with whom I studied during my Co-Active Leadership Program, I will also see classmates from my original classes back six plus years ago. I look forward to seeing them again and hearing more about their coaching work since then.
I learned during the webinar course I took last spring that to become really successful and to expand your reach in the world, creating Joint Venture (JV) relationships would be critical. To be honest, I had no idea what the instructor was talking about. But I hung around, watched what others were doing and was actually invited to JV with a few colleagues. JVing, it turns out, is a new verb you should become aware of.
Tomorrow night I'm offering my first JV experience to my audience as I host a talk to be given by Irma Jennings, a coach also, but in a very different field than mine. Irma's expertise is in helping women understand bone health.
We met through a webinar course on how to give webinars. I was immediately impressed with Irma's intelligence, passion and professionalism and am delighted to offer her message to the remarkable women I know.
Having just returned from my cruise which was all about optimal health, I feel compelled to help women become aware of this vital information so that they can participate in their careers with full force for as long as possible.
I recently had a bone scan and found out that I'm pre-osteopenia, which I'm glad to know so I can take action. I am eager to hear more from Irma, especially now that I'm aware of all the mis-information out there, mainly that milk should be our primary source of calcium. Not true! Find out what is as I host Irma's free webinar tomorrow night.
Tonight, I'm going solo and giving a one-session talk on marketing that is lively, informative and will inspire you to take an action right away. Hope you'll join me for either or both.
I'm back from 7 glorious days on the MSC Poesia attending the Holistic Holiday at Sea cruise to the Caribbean. It would be hard to isolate a highlight of this experience, because it was day after day of education, meeting fascinating people, eating exquisitely prepared vegetarian meals, and touring the islands of St. John's, Puerto Rico and Nassau.
But if you absolutely insisted on the quintessential takeaway, I would have to say it was the inspiration I got from hearing the two amazing men pictured here talk about their experiences.
With the documentary film entitled Forks Over Knives, Colin Campbell and Caldwell Esselstyn are changing the way Americans eat. Both transformed themselves from early childhoods on dairy farms into becoming experts on plant-based nutrition through research (Campbell) and medical practice (Esselstyn). Their independent efforts via The China Study (Campbell) and the Cleveland Clinic (Esselstyn) prove with thousands of case studies and statistics that heart disease and cancer can be reversed through diet. Which, they both acknowledge, won't get most people to make the necessary changes in their eating habits, but it has helped significant numbers improve and extend their lives after severe diagnoses.
It was Dr. Esselstyn's personal story particularly that I found powerful. He shared his struggle of getting the invaluable information he'd been studying for years out to a very resistant public, including seven calls to a doctor at Harvard he wanted to reach.
"Never get upset with the secretary," he advised us, even though his frustration level had clearly escalated during his period of prospecting this person.
Dr. Esselstyn and his wife Ann (who was on board throughout the cruise) personally taught his patients how to cook and eat a healing diet. They took an interest in each individual in their study, called them regularly. One memorable segment depicted a woman who shared a journal entry from the day she was in WalMart, determined to indulge in a meatball grinder when her cell phone rang, and it was Ann Esselstyn calling–at that very moment– to see how she was doing. Needless to say, she never had that sandwich and was strongly converted by the level of concern and interest shown by the Esselstyns.)
The China Study has garnered great media attention for these men, decades after the hard work they put in (and continue to put in). The bigger message I got from their talks and their presence was that when you're living your passion and making a contribution to society, the material rewards may or may not come, but the lives you are changing will be gratifying beyond words.
In today's NYTimes obituaries, the man who helped us understand the danger of aerosol sprays to our environment is remembered:
F. Sherwood Rowland, whose discovery in 1974 of the danger that aerosols posed to the ozone layer was initially met with disdain but who was ultimately vindicated with the 1995 Nobel Prize in Chemistry, died on Saturday at his home in Corona del Mar, Calif. He was 84.
I believe that Campbell and Esselstyn also deserve the Nobel Prize for their heroic work in proving that these human and economy killing diseases can be reversed through diet. Disdain–they've already confronted that. Vindication is occurring daily. They have my vote.