You are currently browsing the monthly archive for August 2012.
Napoleon Hill, author of Think and Grow Rich, famously said, "What the mind can conceive and believe, it can achieve." This is exactly what Susan Beallor-Snyder has done–achieved her vision.
Susan and I have been working together over the course of several years. When we first began our coaching relationship, Susan was entirely focused on her jewelry business as a fine goldsmith.
She wanted to establish her brand and carve out time to produce the exquisite pieces she was known for. Managing a household in Westport, CT with two young children and a successful husband, she was faced with a similar issue of many women–when is it MY time?
Susan easily conquered those issues during our sessions, then moved her family back to Atlanta where they had been previously. After getting settled there we resumed our coaching with Susan's vision of having an impact on the art world in this city.
Her creative interests broadened to include photography, a passion she'd had for over 30 years that had gotten buried in the busy-ness of life, plus mixed media and sculpture including rope (as seen in this photograph). Susan studied public speaking, participated in the art world in her hometown, and utilized her skills as a masterful cook and hostess to broaden her reach. She enrolled in classes at SCAD, attended art openings, socialized, volunteered and made donations of her time, jewelry and other work on a regular basis.
Here's the nugget I want to emphasize, and I can see Susan nodding her head in full agreement. This takes time. Susan's heartfelt desire and intuition were to have an impact on her arts community, but to establish that is not an overnight effort. It takes time. Which Susan invested: hourly, daily, monthly, annually. It is what Susan does. She's an artist. She's a contributor. And, she's a mover and shaker with ideas, the stamina to see them through and the desire to share her creative vision with a larger community.
The feature article in BuckHaven Lifestyle Magazine is the visible testament to Susan's achievement. Take a moment to read the article about her and feast on the images of her work. I'm so proud of Susan's persistence in achieving this enormous goal of seeing her leadership recognized.
I blogged last week about the unparalleled experience my sister had during her surgery and stay at the Hospital for Special Surgery in Manhattan. A key ingredient for me, as an advocate for her, was the clarity that helped me navigate from the patient drop-off area to the Family Atrium and then to her bedside without hesitation or confusion.
So when I was at the grocery store last Saturday I had to laugh at what, for me, was new signage at the check-out. There was a distinction being made at the express lane which I had never noticed before. Read the rest of this entry »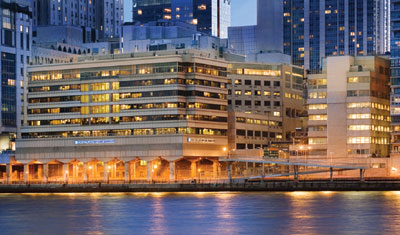 My big sister had THR (Total Hip Replacement) surgery on Tuesday at the Hospital for Special Surgery (HSS) in Manhattan. I was her driver and extra set of ears (along with my younger sister as well). I am, most fortunately, a stranger to the hospital experience so I arrived as a tourist and got to notice how everything was being done.
This was a 5-star experience. It started with crystal clear signage. You have no idea how important this is unless it's absent. Everything was well-marked from the entrance to the patient drop-off to the designated parking lot. It doesn't take a lot to do it right–a well-placed sign where you need it is sufficient. But so many businesses and institutions overlook this vital necessity. Someone was on the job to be sure all this was thoroughly attended to. Throughout the day, I found exactly what I was looking for simply by looking up and finding exquisitely accurate directions printed on a sign.
I appreciated that in the crowded elevator to the fourth floor there was an explanatory sign to show which side the elevator doors opened (front and rear) so you could navigate toward the correct exit as your floor approached. A small, good thing which, if overlooked, adds tension to your journey. It wasn't overlooked.
In the Family Atrium, an airy, nicely furnished space with a spectacular view of the East River, we were given a printed notecard explaining precisely when visiting hours were for post-op patients. You were allowed 15 minutes, max! It's important for the patient to rest, it explained, so visits are kept short and only one 'representative' per family is allowed bedside at any time. We were escorted into the recovery area and out again at the end of the 15 minutes.
When I came back for my 15-minute visit later that day, I again went to the Family Atrium where registered visitors' names were clearly listed. We were given yellow gowns to wear over our street clothes and hand sanitizing liquid to clean off germs. I never had to explain who I was or which patient I was there to see. Their records and systems are so precise that I felt like a guest in a fancy hotel.
Of course, all of this is moot if the staff isn't top-notch as well. They were spectacular. Before the surgery, no fewer than six professionals came by my sister's bed to measure different vital signs, help her into special stockings which would keep the swelling down, attach her IV, etc. Everyone was courteous, personable (self-introductions and handshakes to the patient and me as well) and informative. The surgery went flawlessly, and my sister was very comfortable immediately after the operation and even better the next day.
My good friend Susan Keane Baker wrote a book called Managing Patient Expectations several years ago. I receive her excellent newsletters regularly and am aware of what it takes to create a safe, meaningful and humanized hospital experience. I have to believe that her leadership in this area has impacted hospitals across the country to be user-friendly. HSS deserves an A+ for getting it all right–especially my sister's hip.
By the time I was old enough to be aware of Phyllis Diller, she was already a well-established comedian, something of an institution–"the female comedian."
Fortunately, people hardly make that distinction these days with so many fabulously funny and successful women performers. Reading the obit in the Times this morning revealed her interesting history of becoming known.
She lacked the confidence to do it until she read a self-help book, "The Magic of Believing" by Claude M. Bristol. Inspired by its message of empowerment, she began to write her own comedy routines, hired a drama coach to give her more stage presence, and took whatever paid or unpaid performing jobs she could get: at hospitals, women's clubs, church halls.
So there's the formula:
1) Put yourself in a position to get inspired by reading or listening to the messages of others who have walked the path ahead of you.
2) Do the work. Write, paint, dance, design, create what's in your heart to get out to the world.
3) Hire a professional to assist you. Invest in yourself to hone your skills through coaching or educational venues. Take it to the next level by giving some of your re$ource$ to gain someone else's.
4) Get out there and give it away until they start asking your fee.
You may never have thought of Phyllis Diller as your role model, but imitating a successful formula makes sense.
When I heard that the EWN Program Committee had secured Kate White as our September keynote speaker, I immediately requested the opportunity to sponsor the event.
I first heard Kate speak at an AWED (American Women's Economic Development Corp.) event in NYC while she was still the editor of Redbook Magazine. Since then she's published several books and filled the very large shoes of Helen Gurley Brown (who just passed away)at Cosmopolitan Magazine. I personally invited Kate to come and speak at EWN way back then. She rocked the house.
Now she's coming again on September 20 to share three secrets from her latest book, "I Shouldn't Be Telling You This" and I encourage you to come hear this inspiring role model of a woman–and it's not about what you may be assuming.
I'll share a particular story that night about how Kate deeply inspired and motivated me to make a specific request –a personal feat for which I'm forever grateful.
I'll also be giving every attendee a copy of the new edition of my book Soul Proprietor as a gift. I hope you'll come. The program will be in the evening which is a brilliant change EWN has made to accommodate the busy entrepreneurial woman. See you on the 20th of September.
Watch Jane on WTNH – August 11, 2012
How's this for synchronicity? I appeared on WTNH early Saturday morning proclaiming the importance of taking time off, with intention, from your business.
This morning, I received this email message from my Virtual Assistant:
Thursday while working at my desk I experienced severe chest pain and nearly fainted. I phoned 911 and was taken to the hospital. The symptoms indicated I was having a heart attack. I was admitted to the hospital where I underwent a number of tests and was released Friday afternoon. The good news is that I didn't have a heart attack but the bad news is the stress test revealed I need to start taking my health more seriously. This was a wakeup call for me.

I will be making some changes to my schedule to improve my health. While I will continue to maintain high standards of service to you, I have to start setting reasonable expectations for myself. This means I need to consistently start taking breaks, giving myself time to do my work at a normal pace and taking real vacations. I haven't had a real vacation (the kind where you fully unplug from work) in more than 10 years. Mine have always been working vacations or long weekends. I've been fooling myself thinking that was ok.
She then informed me of her schedule moving forward–i.e. She set clear boundaries around her work and personal life and when I could expect my work orders to be completed (which I fully support and respect).
I asked my VA's permission to share her message, which she promptly gave in the hope that it might help another compulsive non-vacation-taker.
As I said on the TV clip, don't wait for the Universe to force you into a vacation. Now's as good a time as ever to schedule your day, week or month off so you can restore your body and your mind to its full capacity.
Jodi Kantor Interview with Jon Stewart
After hanging up from my coaching call with my coach, I attended a Ladies Who Launch event in New Canaan last night to hear Jodi Kantor speak about her recent book publication The Obamas– the national bestseller she wrote that came out in January.
The book answers the questions: What happened to the couple we met in 2008? What is the effect of power? Jodi told us more about the process of writing the book and its aftermath than its content–by audience request. She said that every book has to answer a question that even the author doesn't have the answer to.
I could have left right then and felt completely filled up. My coach, in our conversation prior to this talk, suggested I put my energies into personal subject matter for my next book and/or keynote. I loved everything she suggested, but didn't feel like I knew where it would lead me. Then Jodi made that statement, and I felt as if the Universe was winking at me and saying, "See? You won't know until you pursue it."
Back to the stellar event–Jodi is a risk-taker. First, she had the courage to drop out of Harvard Law School to pursue journalism. After covering the Obamas for the New York Times, she took a leave of absence from that venerable institution in order to write this book. In retrospect it's easy to see how much sense that all makes. But think of your own journeys and how uncharted the territory ahead can seem. Jodi's choices were courageous.
She explained to us that The Obamas was an 'embargoed' book, meaning that NO ONE read it before the pub date. What happened after its publication stunned her as several reviewers condemned her for portraying Michelle Obama as another angry black woman.
One thing these reviewers had in common was that they had NOT read the book. Public opinion, including the front page of the NY Post, declaimed Kantor's volume.
Then Jon Stewart (please, entertain yourself and watch his interview by clicking the link above) had Jodi on the Daily Show and congratulated and praised her for showing Michelle Obama as the moral compass of the administration.
Things started to turn around. But not before sensitizing Kantor to the awareness of how challenging it is to be written about. It increased her empathy for all public figures–where she also now found herself. "Very fourth grade!" she told us after reading the criticisms of her book that were unfounded.
I promptly bought a copy of The Obamas and am one hundred pages in already. It's journalistically reported combining truth and juice, because the story is really interesting.
"People have a compulsive need for the truth," Jodi told us. I'm very glad to have heard last night's presentation, shook Jodi's hand and now read her words.
My goal buddy, Sandy, and I re-connected this week after my July hiatus. It felt great to begin committing my plans to a like-minded woman entrepreneur. I'm so excited about my upcoming Mastermind Intensive being offered to the women I've worked with in the past. I told Sandy that I would have my 'editorial calendar' prepared by the time we speak again.
In order to accomplish this goal, I blocked out time on my calendar, made an appointment with myself,  settled into a comfy chair with my pen and a large pad of paper to mind-map the year ahead.
The hardest part of any task, I find, is getting started. Every email, social media site, mote of dust on the computer keyboard seems more urgent than changing gears and starting something new.
Once I sat down, though, the ideas flowed. Now I'm even more inspired. I will invite experts to speak monthly on topics that are vital to all entrepreneurs: social media, branding, communicating your message, creating joint ventures, financial planning, etc.  What got me totally psyched was going through my mental Rolodex (remember those?) of colleagues whom I'll invite to share their expertise with my remarkable women.
Wouldn't you know that as I was sitting with this mind-map, my phone rang with one of my most admired colleagues calling me for some advice? I had one particular slot to fill matching an expert with a topic, and her timely call was the gift from the Universe affirming my plan. She's the perfect person to talk about strategic planning and creating joint venture opportunities.
Do you have a goal buddy to commit your plans to? What forcing mechanism do you have in place to get you out from behind the computer and into pro-active mode?